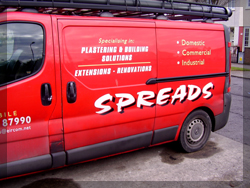 At Spreads Plastering, we are serving the trade of plastering for more than 18 years.
We own a family business and this trade are being successfully carried forward by our different generations. The members in our team are fully experienced in this field and they are completely aware of the art called plastering.
We have learned the skills of plastering from those who are expert in this field.
This is the reason why our team is always able to offer high quality service that has exceptional professional standards. With our services, we easily rank among the best in the industry and we guarantee that we can make your dreams come true by utilizing our high class performance.
We believe in providing quality work that is unique and created as per the specific needs of the clients. We are committed to bring improvement and innovation in our services and that is why we can assure our clients with best service every time.
Our plastering services are tailored for both residential and commercial projects and that to at competitive prices.